Meet Harlan Nissenbaum, "The Sweetie Pie Concierge"
A few years ago, Harlan Nissenbaum catered to the needs of VIPs at St. Louis Lambert International Airport as an American Airlines concierge. After 35 years assisting celebrities such as Jon Hamm, Bette Midler, Marlo Thomas, Joe Buck and Nelly, Nissenbaum has traded in his Admiral's Club wings. He's still a concierge, but instead of assisting travelers, he's now the answer man at Clarendale Clayton.
The 13-story senior residence at Clayton and Hanley roads opened last fall and is quickly filling up with about a dozen people moving in every month. One of the first people new residents meet is Nissenbaum. "When they're moving in, I help make them feel comfortable," said Nissenbaum.
"They like to see a familiar face. They may want to learn where the closest bank and restaurant are. I don't know everything, but I do know pretty much."
Emma Harrison is one of the newer Clarendale residents. She called Nissenbaum "a sweetie pie. He's very welcoming, he knows no strangers, and he knows a little bit about everything. Everybody loves him."
Clarendale Clayton is a $121 million complex with apartments starting at $3,495 per month for independent living and $5,950 per month for assisted living. It also has a memory care unit. The amenities, including a theater, art studio and a chef whose last kitchen assignment was down the street at the Ritz-Carlton, make it seem more like a boutique hotel than a typical senior living community.
Those amenities include a concierge with an encyclopedic knowledge of what's going on in St. Louis. Nissenbaum — who when asked about his age said he was 47 — keeps up to speed on shows, hot restaurants and resources in the Jewish community for residents who request assistance or information.
Nissenbaum and Meredith Evangelista, Clarendale's director of sales and marketing, are Jewish so they have a built-in bond with Jewish residents. They also do whatever it takes to satisfy a demanding clientele. In June, Clarendale Clayton began offering Shabbat services on Friday evenings, conducted by Rabbi Susan Talve of Central Reform Congregation.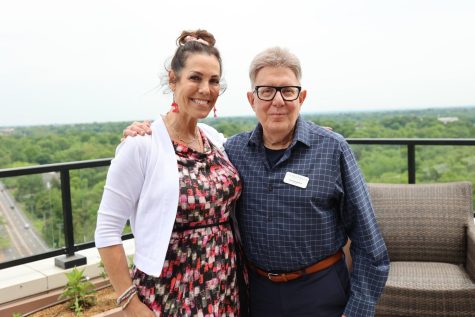 "The people here are intelligent and affluent," Nissenbaum said. "They're well read and active. Some are coming here from a big house, and they wonder, 'Did I make the right decision?' It's rewarding for me to see a smile on their faces when I make them feel comfortable, especially if they have any kind of anxiety. I make it a point to recognize them and get to know the relatives of the residents. That makes a lot of difference."
The facility is pet-friendly, Nissenbaum said. He even tries to learn the names of pets, and he often connects residents with vetted, professional dog walkers and plant waterers.
Nissenbaum grew up in Ladue and attended United Hebrew Congregation on Skinker Boulevard when he was a teenager. After earning a degree in education, he was hired by Famous-Barr in the department store's executive training program.
"I worked at Northwest Plaza in its heyday," he said. "Then my family opened two clothing stores in the '70s, called Jeans and Things."
Nissenbaum also sold men's clothes at Nordstrom and Dillard's. Working in retail led him to his airport concierge role, working in the Admiral's Club for TWA, which eventually became part of American Airlines. He loved the people-pleasing part of the job, and he was a natural at assisting VIP travelers. Nissenbaum even became the regular flight announcer, aided by his deep baritone voice.
Now, Nissenbaum is still helping people, but in a slightly different way. It could be guiding a resident who keeps kosher to find dining options. One new resident needed a corkscrew late in the evening so she could open a bottle of wine to toast her new home. Computer tech support is a regular need, such as connecting to a wedding ceremony via Zoom.
Whatever the request, Nissenbaum takes on the challenge with a smile and can-do attitude, resident Muriel Weiser said.
"He's my best friend, he'll get me anything I need," she said. "He takes care of everybody, and he'll do anything for the residents. And he never complains."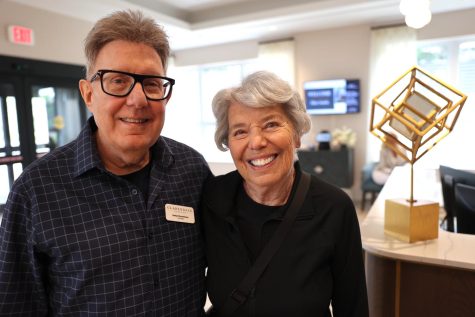 Evy Cohen is another Clarendale resident who just enjoys chatting with Nissenbaum.
"My friend and I were in the dining room and when we got through, Harlan was sitting behind the desk," said Cohen, 91. "We enjoy his company and the stories he tells us."
Nissenbaum said one of the biggest rewards of his job is giving residents' families confidence that their loved ones are being taken care of.
"These families are going through so much, and it's important for them to get some assurance," he said. "I love creating relationships with people. It's similar to being in the Admiral's Club, except I don't have to worry about helping someone re-route their luggage. It's just helping people and smiling and not getting on edge.
"You get all kinds of requests. Some are extreme, and you can only do so much, but you try to do what you can within the confines of your capabilities."
Original Article by Bill Motchan, Special to the Jewish Light: https://stljewishlight.org/top-story/meet-harlan-nissenbaum-the-sweetie-pie-concierge/