Meet Our Residents: Majoice Thomas
Majoice Thomas relocated from Little Rock, Arkansas to Clarendale Clayton and quickly found the freedom from home responsibilities liberating.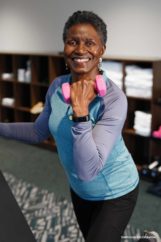 "I considered five other communities before choosing this one,
 said Majoice. "After just one week at Clarendale, I knew I made the right choice." 
"I'm meeting new people and the Fitness Center is great. I'm accustomed to working out, and thankfully, my new neighbors are not shocked by my green smoothies and happily join in when I want to talk gardening." 
If Thomas ever needs assistance on her exciting new journey, she has it. "The staff is amazing. They bend over backward to help- and do it with a smile." 
The best way to see what our residents are talking about is to experience Clarendale Clayton yourself. Contact us or call 314-390-9399.