Meet Our Residents: Ken and Susan Balk 
MEET OUR RESIDENTS: They have a lot to say about exceptional Clarendale Clayton senior residences.
Ken and Susan Balk may always miss their mid-century modern home in Creve Coeur, but they've embraced their new lifestyle at Clarendale Clayton.
"Our new home is a spectacular apartment with curved windows and wonderful views," Susan said. "Ken and I believe it's the perfect starting point for what's next. New place. New experiences."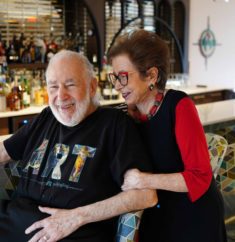 "The atmoshpere is upbeat, diverse and welcoming, We've been getting to know our neighors. Everyone who greets us is so interested in our story and so interesting themselves."
Dining is a highlight, too. "We're often invited to join others for dinner. I watch what I eat and simply can't resist the pecan-encrusted salmon. Delicious!"
The best way to see what our residents are talking about is to experience Clarendale Clayton yourself. Contact us or call 314-390-9399.